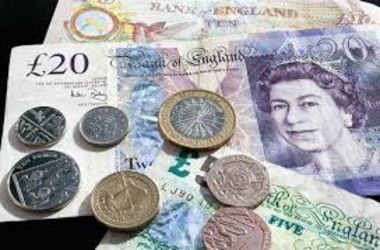 The British pound dropped below 1.30 against the greenback, against the backdrop of worries about a sharp rise in Covid-19 cases throughout the Europe and an absence of advancement on a Brexit agreement.
The UK reported roughly 23,000 coronavirus infections Tuesday, a figure that stayed near to record rise last week.
Across the Channel, French President Emmanuel Macron is anticipated to implement a countrywide lockdown today, while German Chancellor Merkel is expected to suggest some kind of minimal lockdown, which would result in the shutdown of bars, discos, fitness studios and cinemas, while restaurants would be only permitted to serve takeaways orders.
In the meantime, investors trust that some form of free trade deal between the UK and the EU can be reached, following the extension of talks until today.
Analysts believe that the pound may not succeed in strengthening further against the euro, dollar and other top currencies in the near future against the backdrop of increasing worries that the last stage post-Brexit trade negotiations over fisheries could take several weeks to sort out.
Both the EU and the UK negotiators will continue talks in London until today following which they will move to Brussels and continue with the talks.
However, there are reports of advancements in several areas and there is likelihood of a solution by Saturday of this week.
Nevertheless, there are also reports that the two parties are in a deadlock on issues of future access of fishing boats, belonging to the EU, to the UK waters and any impasse is expected only to be broken at the political level. This implies, it would take several weeks before achieving a breakthrough and until then Sterling could show choppy movement.
Regarding the stumbling blocks in Brexit negotiations, The Telegraph has reported that "Brexit talks face a roadblock this week after France refused to compromise on fishing, with Government sources hoping Angela Merkel will intervene to break the impasse."
There were also news reports that the French Prime Minister Emmanuel Macron is denying to tone down his position on the issue and had in fact taken an extremely tough stance on the problem.
There are reports that the UK is looking for fisheries arrangement that is comparable with the one practiced with Norway, where quotas are established every year.
However, coastal states in the EU, headed by France, look for a long-term agreement to be signed as they fear that their influence on the issue will go down considerably after a post Brexit trade deal is signed.
Worrisomely, France is not ceding an inch thereby leaving the deal hanging in the balance. Experts believe that Germany's Angela Merkel may have to nudge France to show flexibility for arriving at an agreement.
A spokesperson of the UK government said "We are relatively optimistic but that doesn't mean it won't end in tears. Fisheries is the biggest thing. We are hoping Merkel can unlock Macron on fisheries."
The outcome refutes reports that indicated France was willing to compromise and accept a deal that would forbid them access to a part of the UK waters it currently has access to.
Zach Pandl, an economist with Goldman Sachs in New York, said "Recent acrimonious negotiations are mostly posturing. Both sides appeared to show some more flexibility on outstanding issues like level playing field arrangements and fisheries, and each was satisfied enough to take negotiations to the next level."
In a note to clients, Jakob Ekholdt Christensen, Chief Analyst at Danske Bank. Christensen, wrote "The main issues remain fisheries and level playing field conditions."
Christensen believes that the GBP/EUR pair, which is currently trading near the upper end of the trading band (1.0870-1.11), will breach 1.11 level only if there are firm signals of a deal.