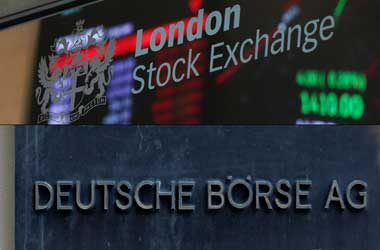 European regulators have blocked the £21 billion merger between the London Stock Exchange and the German stock exchange Deutsche Boerse. It is interesting to note that the announcement was made the same day Britain formally started the two-year process for exiting the European Union.
The European Commission rejected the deal stating that it would create a monopoly within the EU for transactions related to clearing bonds and repurchase agreements, harming competition. Several analysts believed the deal would never materialize especially since the UK voted to leave the EU in June 2016.
The merger of equals between two of Europe's largest stock exchanges had been proposed to improve operational efficiencies and as a measure to counter increasing competition from U.S and Asia-based stock exchanges. This is the third time that a merger attempt between the two has failed.
CGTN
In a statement, Alasdair Haynes, head of stock market operator Aquis Exchange Ltd., said,
It's game over for the time being. What with Brexit going on, people need to see what the market is going to look like. You're risking far too much to try and do a deal at a time of complete uncertainty.
Investors have reacted positively to the news. Shares of LSE rose by over 3 percent while Deutsche Boerse shares were up by nearly 2 percent.
The possibility of the merger failing this time around had been flagged by the LSE in February after the EC asked it to sell its 60 percent stake in MTS, a fixed-income trading house operating in Italy. The LSE refused the request calling the demand disproportionate.
The stock exchange had earlier agreed to sell its France-based clearing unit LCH Clearnet SA in order to address EC's concerns regarding monopoly.
Responding to the news, Deutsche Boerse Chairman Joachim Faber said that it was a setback for Europe. EU regulators have increased their scrutiny of large deals in recent years, often asking for significant concessions in order to eliminate any overlaps or business concerns that could result in the combined company having significant control over an industry.
The EU noted that LSE's decision to not sell MTS had undermined its earlier offer to sell LCH Clearnet. The regulators said that the behavioral measures offered by both companies were not sufficient as MTS could be used to divert critical trading feeds away from competitor Euronext. LSE's LCH division has since announced that it was cancelling the sale of LCH Clearnet SA to Euronext NV after the EC veto.