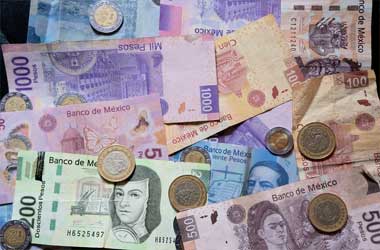 The Mexican peso gained 0.05% to trade at 24.3379 against the greenback despite a 5% m-o-m drop in the industrial production in March, following an amended 2% decline in the earlier month and compared with economists expectation for a 6.1% decline.
It was the sharpest drop in industrial output since October 2010, amid business shutdowns and lockdowns due to the Covid-19 pandemic.
Manufacturing production contracted to 6.1% in March, after shrinking 1.2% in February, and utilities production decreased 0.8%, after expanding 1.5% in the earlier month.
Precisely, the country's car production fell 98.8% y-o-y to a historical low of 3,722 units in April 2020, as the Covid-19 pandemic caused several industries to shut down.
Also, mining output growth fell to 1.3%, from 5.5% in February. On the contrary, construction production contracted 7.5%, following a 9% shrinking in the prior month.
On a monthly basis, industrial output dropped 3.4%, following a 0.5% decline and compared to consensus estimate of a 4.4% decline.
Mexico's auto exports plunged 90.2% y-o-y to 27,900 units in April 2020, as the Covid-19 outbreak pushed several businesses to shut down and kept people locked at home.
While General Motors recorded a 92.3% drop in exports, FCA Mexico posted a 81.4% decline.
Other prominent exporters who saw a steep drop in exports include Nissan (-99.7%), KIA (-66.5%), Ford Motors (-98.4%), Audi (-97.7%), Toyota (-100%), Honda (-97.8%), Mazda (-97.7%) and Volkswagen (-89.1%).
On the contrary, exports from BMW Group surged 1232.3% to 1700 units, from zero in the same period last year.
The country's annual inflation declined to 2.15% in April 2020, from 3.25% in the earlier month and compared with economists anticipations of 2.13%. It was lowest recorded inflation rate in five years.
On a monthly basis, consumer prices decreased 1.01%, the worst reading since 1969, after declining 0.05% in March. The core index, barring volatile food and energy costs, rose 0.36%, after a 0.29% increase in the earlier month.
In the US, the NFIB Small Business Optimism Index declined 5.5 points from the earlier month to 90.90 in April 2020, its lowest level since March 2013, as the Covid-19 pandemic impacts the economy. Sales anticipations for the next six months plunged 30 points to -42, reflecting the lowest point in the poll's 46-year history.
Nevertheless, small-business owners' bullish sentiment about future scenario indicates they anticipate the recession to be brief, with the metric for business environment anticipations over the forthcoming six months wiping out all the decrease in March.
Brent crude rallied 2% to trade more than $30 per barrel Tuesday after Saudi Arabia announced that it will slash production by an additional 1 million barrel per day starting June, reducing its aggregate production to 7.5 million barrels per day.
The production cut, in accordance with the recent OPEC+ deal, is in addition to the earlier agreed one. The benchmark Brent crude trades at roughly $30 per barrel.
In China, the Consumer Price Index data published by the National Bureau of Statistics indicated that annual inflation rate decreased to 3.3% in April 2020, from 4.3% in the earlier month and below economists' expectations for 3.7%.
It was the lowest rate since September 2019 as the Covid-19 issue intensified. Food inflation decreased to a seven month low of 14.8%, from 18.30% in March, with pork prices increasing by 96.9%, compared with 116.4% in the earlier month.
Non-food inflation also decreased to 0.4%, from 0.7%, amid decline in cost of clothing (-0.4% versus -0.3%), fuel, rent and utilities (-0.3% compared with 0.1%) and transport and communication (-4.9% against -3.8%).
Sectors that contributed positively are household goods & services (down to 0.1%, from 0.3%), education, culture & recreation (2% against 2.5%), healthcare (2.2% vs unchanged level in March) and other goods & services (4.8%, down from 5.3%). On a monthly basis, consumer price declined 0.9%, following a 1.2% drop in March.
Across the globe, the number of people infected by Covid-19 crossed 4.30 million, with more than 290,000 people losing their lives.
In the US, the number of Covid-19 infected people rose to roughly 1.40 million, representing 32% of worldwide cases. In Europe, Spain, which is the worst-affected nation, recorded over 268,000 cases.
Notably, Russia's figures cross the UK and Italy, with over 232,000 confirmed coronavirus infections.
With over 81,000 deaths, the US is the nation with maximum number of deaths caused by the virus, followed by the UK, Italy and Spain.