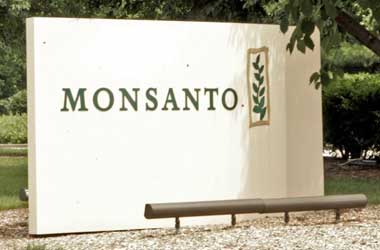 Last Thursday, agricultural bio-technology company Monsanto Company (MON) reported a decline in the fiscal 2016 third-quarter revenue, compared to the similar period last year. The third-quarter revenue also missed the analysts' estimates. However, the stock price almost closed flat. The reason is that the outcome of the Brexit referendum had already pushed the stock below the psychological level of $100 per share. Furthermore, the financial markets saw considerable recovery in the past three trading sessions. Thus, the stock survived another round of battering by the market.
Still, due to the reasons given below, the share price has a negligible chance of going up in the fourth-quarter.
During the fiscal 2016 third-quarter, Monsanto reported revenue of $4.19 billion, down 9% from $4.58 billion posted in Q3 2015. The third-quarter revenue was below the Wall Street estimates of $4.49 billion.
CBS This Morning
The revenue from the Seeds and Genomics segment increased 0.4% to $3.2 billion. On the other hand, the revenue from the Agricultural Productivity segment decreased 29% to 0.98 billion, from $1.3 billion last year. The Seeds and Genomics segment contributed to 76.6% of Monsanto's revenue, while the Agricultural Productivity segment contributed to 23.4% of the company's total sales.
Globally, the unfavourable weather conditions have considerably reduced farmer's spending, thereby resulting in a decline in the revenue. The third-quarter net income declined 38% to $715 million, from $1.16 billion in the prior-year similar period. Correspondingly, the Q3 2016 earnings per share declined 32% to $1.63 per share, from $2.39 per share in the third-quarter last year. Excluding costs, the adjusted earnings for the quarter ended May 2016 were $2.17 per share. The adjusted earnings per share were also lower than the consensus estimate of $2.40 per share.
During the third-quarter, the company's gross margin has fallen 300 basis points to 56.8%, from 59.8% in third-quarter of fiscal 2015. The St. Louis, Missouri-based company is also facing headwinds in the price of herbicide and glyphosate. Furthermore, the restrictions put forth by the Indian government on cottonseed pricing and the delay in getting approval from the EU for the new soybean variety is also hampering the growth of the company. Monsanto, which rejected the $62 billion takeover bid of Bayer, announced that there is still a possibility of a merger deal.
However, the management failed to divulge further details. Monsanto now anticipates the fiscal 2016 earnings to be in the lower end of the prior guidance range of $4.40 to $5.10 per share. Thus, fundamentally, the stock can be expected to remain bearish.
The chart shows resistance for the stock at 107. Major support lies at 95. The MACD main line has fallen below the signal line, thereby indicating weakness in the scrip.