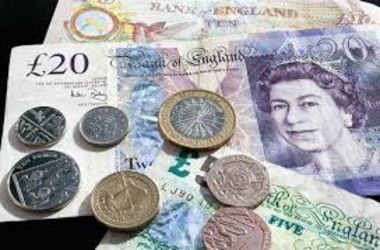 Recent statistics support arguments that UK inflation and its core determinants are cooling down, but economists and market participants remain divided about their expectations from the Bank of England (BoE) in the coming week, with a sector of traders speculating that the BoE may opt to leave benchmark interest rates unchanged for the first time in more than a year. The most recent BoE Inflation Attitudes Survey revealed on Friday that public expectations for inflation in the upcoming months continued to decline in February, while economists anticipate official statistics to corroborate in the week ahead that real inflation declined again in February.
Inflation is projected to dip from 10.1% to 9.8%, marking the fourth consecutive decrease, while the more significant core inflation rate is projected to tumble from 5.8% to 5.7%. Whether this will prevent the BoE from raising the Bank Rate above the present level of 4% on Thursday continues to be seen. Although the recent monetary tightening in the aftermath of the downfall of two U.S. banks loosens by forthcoming week's MPC meeting, the latest labor market info gives the MPC ample reason to maintain the Bank Rate at 4%, according to Samuel Tombs, chief UK economist at Pantheon Macroeconomics.
"As the initial chart demonstrates, the annualized rate of month-to-month wage increases slipped to 2.0% in December before declining to 1.2% in January," Tombs writes in an analysis of employment data published on Tuesday.
As a result of the double-digit pace of inflation, annualized hikes in wages and compensation have risen into the upper single-digit percentage range, causing the members of the Monetary Policy Committee to be concerned about a self-perpetuating downward spiral of inflation. Wages are among the biggest expenses incurred by companies, so an increase in wages may give rise to sustained inflation at a greater rate than would normally be the case, which is why the BoE has stated it will respond by increasing interest rates additionally.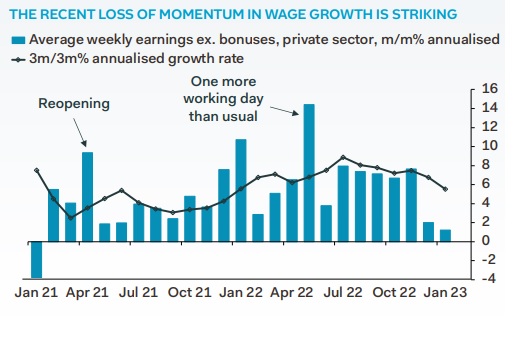 "Wage growth is slowing down. "January marked the second sequential month of extremely modest m/m private sector pay growth," writes Barclays economist Abbas Khan in an analysis briefing published on Wednesday. "Even at instances with slightly lower frequency, the momentum slowdown is apparent with %3m/3m increase now obviously decelerating," he adds.
Relevant for subsequent Thursday's ruling, Office for National Statistics data released on Tuesday indicated that yearly pay growth declined from 6.7% to 6.5% in January when discretionary incentives are excluded, and from 6% to 5.5% when incentive compensation is included.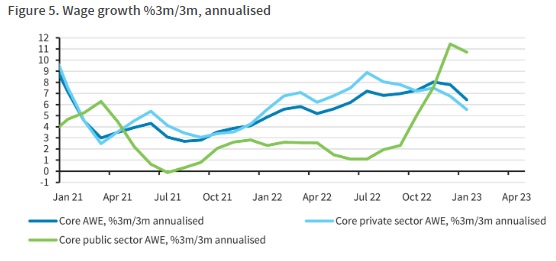 When paired with decreases in the total number of advertised job openings, the recent deceleration in wage increases could be construed by the BoE as a sign that inflationary risks are diminishing, possibly obviating the requirement for a further increase in the Bank Rate.
"Up to the final day of last week, March's MPC meeting seemed very likely to result in a 25 basis point (bps) rate hike, with investors firmly factoring in this outcome," explains Andrew Goodwin, chief UK economist at Oxford Economics. "The fall of Silverlake Capital and Silicon Valley Bank caused investors to re-price, cutting their projections for the high in Bank Rate by 50 basis points and lowering the projected likelihood of a 25 basis point hike for the following week from 100 percent to around 50 percent," Goodwin writes in a Friday study report.
In February, the Bank of England (BoE) increased the Bank Rate from 3.5% to 4%, but it subsequently cautioned that it would react "forcefully" to any signs of persistent domestic inflationary pressure and instead became noncommittal regarding the outlook. Since then, numerous BoE lawmakers have stated that they continue to regard inflationary threats as "considerably biased to the positive" or words to that effect, but the majority have refrained from suggesting that they will lift benchmark interest rates again in the coming week.