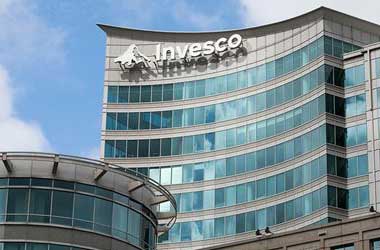 Blockchain exchange-traded funds (ETFs) are a hot commodity right now and investors will be interested in the latest ETF that launched on the London Stock Exchange (LSE).
Invesco has just launched its new Invesco Elwood Global Blockchain UCITS ETF.
The company worked with Elwood Asset Management, an expert in digital assets, to create this new investment product.
In a statement, Gary Buxton, head of EMEA ETFs at Invesco, said
Invesco has earned a reputation for being able to identify genuine opportunities with sound investment potential, and finding the most suitable ways to bring them to market. We believe the potential for blockchain technology to disrupt the status quo of companies in virtually every industry makes for a strong long-term investment case. This new fund offers exposure with the added benefit of Elwood's expertise along with the attractions of our ETF structure.
The plan is for the fund to target 48 companies that are involved in developing blockchain technologies. Some of these are major players in the tech industry like Intel, Apple, Advanced Micro Devices, CME Group and Taiwan Semiconductor Devices. The choice of these companies was finalized through the help of a scoring system developed by Elwood.
According to Bin Ren, Elwood's CEO, blockchain technology has been around for nearly a decade now but people still think it is limited to cryptocurrencies. However, blockchain can go well beyond that. With blockchain technology already being used in other industries, investing in it is becoming a smart move for many people. Currently, Elwood thinks that blockchain technology is about to expand exponentially as its potential becomes fully appreciated.
The ETF's list of companies has 46 percent of them coming from the IT sector, while another 29 percent comes from the financial technology sector. As for geographical location, 39 percent of the companies are based in the US, while another 29 are in Japan.
US Exchanges Could Soon Open Up
The Invesco ETF was not the only exchange-traded product (ETP) to pop up. Recently, the SIX Swiss Exchange added an Ethereum-backed ETP. This is after the success of two other ETPs. One was a Bitcoin-backed ETP and the other a crypto basket index product.
The United States may soon follow suit as the Securities and Exchange Commission (SEC) is considering applications for a Bitcoin-backed ETF. There are two applications being reviewed by the agency, one from the Chicago Board Options Exchange and other from NYSE Arca.