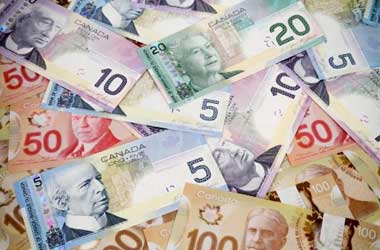 The Canadian dollar closed Friday's trading at 1.3396 against the greenback, reflecting eight week low against the back drop of a strengthening dollar, mounting worries over a surge in worldwide Covid-19 infections and a decline in crude prices.
Notably, Prime Minister Trudeau rolled out a program to assist the economic rebound from the Covid-19 impact, including a guarantee to prolong wage assistance until forthcoming summer, and credit lines for industries affected by the pandemic.
During the same period, Canada's government intends to increase weekly benefits for unemployed individuals and substitute the prevailing Covid-19 linked income assistance, which is set to cease this weekend.
The country's budget deficit widened further to C$28.23 billion in July, from C$1.47 billion in the comparable period last year, mirroring the sharp economic decline and intermittent initiatives enforced under the Economic Response Plan to assist Canadians and companies facing difficulty as an outcome of the Covid-19 pandemic. Revenues slumped by C$6.30 billion (22.5%) to C$21.59 billion due to decline in tax revenues.
In the meantime, program costs surged by C$20.80 billion (76.90%) to C$47.85 billion, led by a rise in transfers to individuals, companies and other stages of government as a portion of Covid-19 response efforts. Public debt costs decreased C$0.30 billion, or 13.10% to C$1.97, mirroring partially the decline in Consumer Price Index modifications on Real Return Bonds.
Nevertheless, not everything is gloomy. Average weekly earnings of non-farm payroll workers increased 8.7% y-o-y to C$1,118 in July, following a downwardly amended 9.3% increase in the earlier month. The rise was driven by arts, entertainment & recreation, which recorded a growth of 17.7% to C$734 in July. Educational services posted an increase of 12.4$ to C$1,180. Real-estate and rental and leasing recorded a rise of 11.2% to C$1,189.
Likewise, administrative and support services rose 10.6% to C$907. In the meantime, earnings declined in utilities by 5.8% to C$1,792. Overall, the weekly payroll for all workers increased 5% m-o-m in July, reflecting the second successive month of growth. This took the overall weekly payroll to 95.1% of its pre-pandemic February level.
New house prices increased 0.5% m-o-m in August, following a 0.4% rise in the earlier month and above market anticipations for a 0.3% increase. The reported reading reflected the fourth successive increase in new house prices and the largest since May 2017. In almost all the 27 census metropolitan areas (CMAs), new home prices increased amidst rising demand for single-family homes and higher building material expenses.
Retail sales increased 0.6% m-o-m in July, following a downwardly amended historical increase of 22.7% in the earlier month, but missed economists anticipations for a 1% rise. Sales increased in 6 out of 11 subsectors, with motor vehicle & spare parts dealers posting 3.3% growth. Gasoline stations posted 6.1% increase in retail sales growth against the backdrop of higher gasoline prices, reopening of economy and increase in travel by Canadians. Clothing and accessories stores posted 11.2% growth.