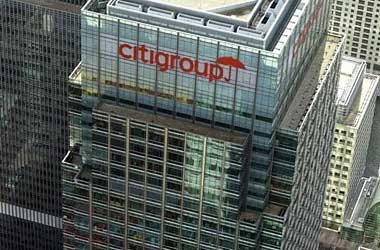 The stock of global banking and financial institution Citigroup Inc (NYSE: C) had a tremendous run up in September.
The stock, which closed at $73.80 yesterday, had gained about 12% in a month. The hawkish stance of the Fed and overwhelmingly positive US second-quarter GDP growth of 3.1% is mainly responsible for the recent rally in the share price.
However, as explained below, the weak revenue outlook and poor dividend payout are some of the factors, among others, that are likely to initiate a downtrend in the stock.
Last week, while speaking at an industry conference, John Gerspach Citigroup's CFO, stated that he expects a 15% y-o-y decline in the trading revenue in the current quarter, as investors have considerably reduced the frequency of trades in the financial markets. That would mean a $610 million decline in revenue to about $3.5 billion, based on the past regulatory filings. Furthermore, Gerspach expects a slight increase in credit loss rates from its North American card business in fiscal 2017.
Bloomberg TV Markets and Finance
Gerspach also warned that the Fed has to finish expected changes in its annual capital reviews by the end of October. The reviews, known as CCAR, would determine the dividend payout and stock buybacks offered by banks in 2018. Citigroup also hit the headlines for the wrong reasons last week. The US Commodity Futures Trading Commission (CFTC) stated that Citigroup Inc has agreed to pay $550,000 as penalty for violations related to swap data reporting. In Particular, CFTC pointed out that the London-based Citigroup Global Markets and Citibank, subsidiaries of Citigroup, improperly reported the Legal Entity Identifier (LEI) information for swap transactions. Following the disciplinary action taken by the US regulators, the bank has agreed to improve its reporting standards.
Analysts also note that Janet Yellen' support for Dodd-Frank regulations contradicts Trump's intentions. If consumer inflation continues to stagnate, then Fed may be forced to postpone its plans of interest rate normalization. That would weaken the stock of Citigroup and all other banking stocks. Questions have also been raised about Citigroup's ability to complete much-needed restructuring programs. The current dividend yield of 1.88% is not attractive as well. The stock is trading at a PE of 13.57, which is higher than Wells Fargo's PE ratio of 12.65. Thus, all these facts favor a downtrend in the stock of Citigroup.
The stock has started declining after facing resistance at 73.20. The RSI indicator, which is declining from the level of 78, confirms the selling pressure on the stock. On the downside, the next major support exists at 70.50.
To trade the downtrend, we are planning to invest in a put option. We will invest only if the option remains active for a week and the stock trades near $74 in the NYSE.