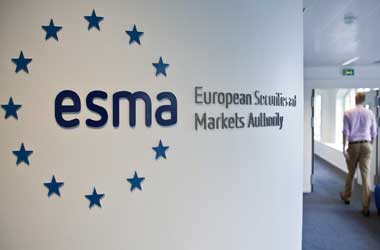 Earlier this year, the European Securities and Markets Authority (ESMA) implemented restrictions on the sale of contracts for differences (CFD) to retail investors. The regulatory body had extended the deadline once already and that was supposed to end January 2019. The ESMA has decided to further extend the deadline for another three months starting February.
The restrictions will also continue with the same terms as the previous ban. This means the additional a warning on all CFD products will have to mention the high risk that they present. This means that all online sellers are required to place the following text on their ads: "[insert percentage per provider]% of retail CFD accounts lose money". This is combined with a limit on the incentives that can be given to trade CFDs.
Additionally, there are leverage limits set on the CFDs. This ranges from 30:1 to 2:1. For major currency pairs, 30:1 is the preferred ratio, with commodities being leveraged at 10:1 for commodities. Cryptocurrencies get the lowest leverage mainly because of the risk that they present at 2:1.
There is also a margin closeout rule on accounts. This will be applied per account and will be standardized at a percentage of the margin. If the account reaches it, providers will be required to close out that retail client's open CFDs.
Added protection also comes in the form of negative balance protection on a per account basis. This should limit the amount people can lose on these CFDs.
Devastating To The Online Market
Though the ESMA is just looking out for the customers, the extension of the restrictions is crippling the market for CFDs in the region. This is because these products are very popular with retail investors, mainly because of the high potential for return on them despite the risks. As it is, these restrictions are putting pressure on brokers who are selling these products.
The markets have taken a hit in recent months. In November, ESMA extended its ban on selling binary options, noting the risk and volatility of the product. This limits what financial products brokers can promote online.
ESMA has been flexing its power to extend its three-month restrictions. Mainly focused on protecting investors, the regulatory authority can extend its restrictions as long as it feels national regulators are not stepping up to set their rules for trading particular financial products.