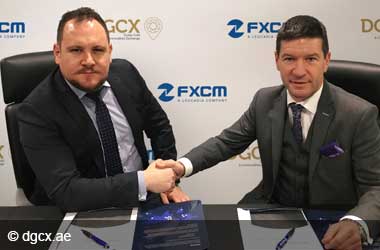 The Dubai Gold and Commodities Exchange (DGCX) and the FXCM Group have signed a Memorandum of Understanding (MoU) that they would soon be working together to launch new forex products on the exchange. The deal will allow the exchange to create new frameworks for upcoming products. Additionally, new trading instruments are set to be launched in the coming months.

In a statement, Les Male, Chief Executive Officer of DGCX, said
It is our aim to ensure that we continue to offer our members and market participants truly innovative contracts, backed by our state of the art technology and Clearing House. These contracts must appeal to not only our international participants, but also to local banks and trading houses too. This MOU with FXCM is the first step in developing ever more pioneering contracts contributing to the DGCX's global offerings allowing us to cross-pollinate each other's diverse client base.
The MoU was signed in the DGCX's London branch. DGCx is a big name in the Middle East since it the region's largest derivatives exchange. Plus, it is the only exchange that will allow global traders to carry out transactions in the region. With 175 members all over the world, it has a wide range of futures and contracts across different commodities. The DGCX also has the region's only multi-asset clearing house which will be a big asset for the deal.
New Doors For FXCM
This new deal is a big step for FXCM. It opens up a new market for the company and is a serious expansion that will boost the company's brand and revenue. The cooperation between the two companies would also help improve the footprint of both countries in the region.
FXCM Managing Director Mario Sanchez-Wandemberg believes that their customers will like the benefits of trading with the DGCX. He is also very optimistic about the products the two will develop in the future. FXCM has a history of being one of the world's best forex and commodity brokers and working with DGCX will only improve their performance.
Founded in 1999, FXCM has become one of the top choices for online forex trading. FXCM customers have access to mobile trading apps, one-click execution, and more. Besides providing top-notch services, FXCM also gives quality training to those who want to develop their trading skills more.
This move into the Middle East reflects the current trend of most forex brokers who are hoping to enter the region. With stricter European regulations, Dubai is becoming a very attractive prospect.