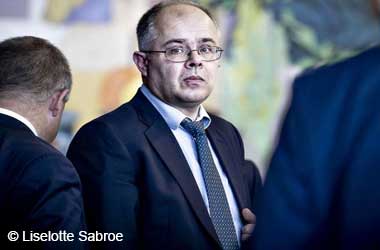 Howard Wilkinson, the one who blew the whistle on the biggest money-launder scandal involving Danske Bank has been talking with officials of various US law enforcement agencies, including the Department of Justice (DoJ). He has been cleared by the bank to talk with the DoJ and other agencies so that the authorities can get to the bottom of this worldwide scandal.
Wilkinson is slated to testify in both EU and Danish parliaments about the money laundering scandal. Danske previously had him sign a non-disclosure agreement before he could give any evidence to protect further banking secrets. In addition, he needed to ask permission from the bank before he and his lawyer met with US authorities.
The Danske bank scandal quickly earned the reputation of being the biggest money laundering scandal in the world. Estimates place an amount equal to Estonia's annual GDP passed through the Estonian Danske branch where this supposedly happened. Sources say that this money came from Russia and other former Russian states that were under economic sanctions.
The DoJ is taking this seriously and is delving deep into the information being provided. Besides Danske, Germany's Deutsche Bank, JPMorgan Chase and the Bank of America are also being investigated. This is because they allegedly had a hand in clearing some of the cross-border payments for the Estonian branch of Danske.
The Financial Crimes Enforcement Network (FinCEN) branch of the US Treasury Department has also taken an interest because of the involvement of US banks. This is dangerous for the mentioned banks since they can order these banks to stop handling cross-border payments.
TRT World
Wilkinson Lays It Out
Wilkinson sent e-mails to the bank's senior management that lays out his suspicions of money laundering. He suspected Lantana Trade, a UK-based limited liability partnership of being owned by the Putin family and having connections to Russian intelligence services. This suspicion was followed up by the bank's internal audit team.
The audit team confirmed Wilkinson's suspicions but it was only three years later before a full investigation began. Many suspect this was because the Danish newspaper Berlingske came out with a report which stated that Danske was involved in money laundering for Russia.
Wilkinson is scheduled to give evidence to the Danish parliament next week, along with Jesper Nielsen, the current CEO of Danske. Nielsen replaced Thomas Borgen as Danske CEO when he was removed from his position because of failing in his responsibilities. Wilkinson's partial release from his NDA allows him to testify but he may still be sued by Danske if he starts mentioning details about clients, something that is not allowed under bank secrecy laws.