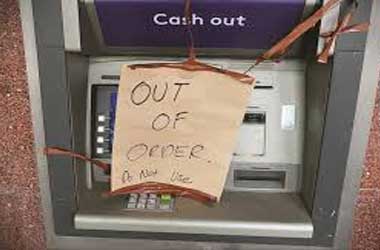 With the rise of digital payments, a lot of banks have been closing physical locations and ATMs, opting for apps and digital access. However, this is causing problems for a lot of people, especially in the United Kingdom (UK).

Consumer groups in England and Scotland are warning that there is trouble ahead as the common man will lose access to cash as banks and ATMs start closing. The groups have already requested protection for access to cash.
The Federation of Small Businesses and the consumer group Which? have noted that the common man now have a harder time making payments in small shops because they lacked cash.
According to stats, hundreds of cash machines have closed in recent months. A large amount of closures has already forced Link, the body that oversees UK ATMs, to pay ATM operators more subsidies to keep their ATMs open.
Which? 
The drop in the number of ATMs and bank branches has been ongoing for years now. Reports show that as many as 488 ATMs disappeared in the last six months. Some of them were protected machines, meaning that they were subsidized by Link. Last year, 102 ATMs were closed.
Link will be adding a new super premium for these ATMs in April. Every withdrawal will get the operator an amount of £2.75. This would help operators keep these machines in operations. The subsidy will cover 3,500 machines.
Need For A Regulator
However, Which? thinks there should be a dedicated regulator for these ATMs so that they can be properly monitored.
In a statement, Jenni Allen, a representative from Which? said
We have serious concerns that the alarming rate of cash machine and bank branch closures risks leaving people facing an uphill battle to access the cash they rely on. Cash is also a vital backup as fallible digital payments grow in popularity, so the government must appoint a regulator to oversee these changes and ensure no-one is excluded and left struggling to go about their daily lives.
However, it looks like cashless payments in the UK is going to be the future based on a new report which shows that the UK may end up becoming a cashless society in the near future. Though it may sound futuristic, it has turned into a current problem for more than eight million people who need cash to pay for their bills and take care of their daily needs