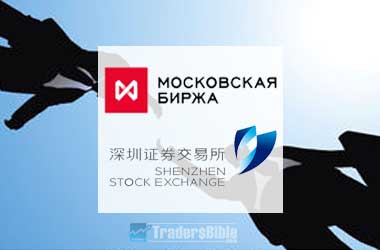 A memorandum of understanding has been exchanged between the Moscow Exchange and the Shenzhen Stock Exchange.
This is the tenth time that the Russian exchange has dealt with a Chinese financial institution. The deal was signed by the two heads of the organizations, CEO Alexander Afanasiev of the Moscow Exchange and Executive VP Peng Ming for the Shenzhen Stock Exchange.
The deal is set to give both exchanges a number of benefits that will help both of them in their operations.
The Moscow Exchange has already highlighted the fact that the two exchanges are planning to work together on marketing events and initiatives in both China and Russia. This is just the first step in their partnership and a number of other interesting initiatives have been planned.
One of the main goals of the Moscow Exchange with this deal is to strengthen the bond between Chinese and Russian investors. The deal would allow for better trading for Russian investors in the Chinese market, as well as doing the same service for Chinese investors. There are already plans to bolster cross-border investments. The two exchanges are thinking of cross-listing exchange-traded funds, allowing for Chinese and Russian investors a chance to track funds in both countries in one go.
This latest trading agreement is another move taken by the Moscow Exchange to increase its presence in the Chinese market. Additional moves include efforts to boost trading volumes in yuan-denominated financial products in Russia. The Moscow Exchange has also been raising capital for Russian-China infrastructure projects for some time now.
The Moscow Exchange already has several cooperation agreements with a number of Chinese financial institutions. This includes the Bank of China, Shanghai Stock Exchange, Industrial and Commercial Bank of China (ICBC), China Financial Futures Exchange (CFFEX), Shanghai Gold Exchange, Dalian Commodity Exchange and the two brokerage firms Galaxy Securities and CITIC Securities.
Moscow Exchange Hits Another Milestone
The Moscow Exchange also recently earned two new certifications. These are the ISO 27001:2013 – Information Security Management Systems and ISO 22301:2012 – Business Continuity Management Systems. These cover how an organization can do on-exchange trading and how they service securities, derivatives, and more.
In a statement, Sergey Demidov, Director of the Operational Risk, Information Security and Business Continuity Department, said
It is critically important for the financial market infrastructure to be in compliance with regulatory requirements and adhere to current international best practices. At the same time, this will strengthen the perception of the Russian financial market among professional participants and their clients, as well as enhance the transparency of the corporate management system in the eyes of the company's' shareholders.