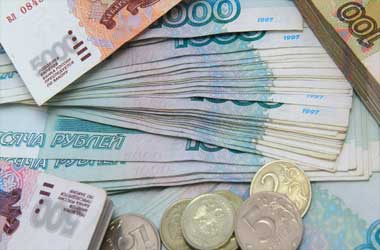 The Russian ruble gained against the US dollar for the third consecutive day to hit $74.1, as crude oil prices continued to appreciate.
The ruble has gained in spite of rate cuts to six-year low by the central bank of Russia.
The Brent crude contracts changed hands at roughly $22 per barrel on anticipation of further rate cuts from producers in addition to the rate cut decisions made by OPEC+ earlier this month.
Notably, Russia's central bank slashed its benchmark one-week repo rate to 5.5%, from 6%, the lowest level since February 2014, to aid the economy rebound from the Covid-19 crisis and declining oil prices last month.
The central bank of Russia reduced its benchmark one-week repo rate to 5.5% on April 24, reflecting the lowest borrowing costs since February 2014 and in accordance with market anticipations.
Lawmakers stated that considerable prohibitive measures have been implemented to fight the Covid-19 epidemic both in Russia and worldwide, which jolts economic activity.
As per the Bank of Russia's forecast, annual inflation will touch 3.8% to 4.8% in 2020 and will stabilize at roughly 4% in the future. GDP is anticipated to decline by 4% to 6% in 2020.
If the scenario develops in accordance with the predictions, the Bank of Russia will look at the feasibility of implementing further rate reduction in the forthcoming meetings.
The US crude oil prices hovered around $16 per barrel as analysts anticipate additional production cuts.
Additionally, worries about the negative impact of Covid-19 on worldwide fuel demand has increased after Gilead revealed that its closely monitored testing of Covid-19 drug did not result in any firm outcome.
Kuwait will implement crude oil supply cuts before May 1, which is the scheduled date.
Next month, Russian oil firms will slash their crude oil shipments from Baltic ports and Black Sea's Novorossiysk to 5.42 million tons, reflecting the lowest level in 20 tons.
WTI crude prices recorded a historical low price of -$40.32 amidst worries about storage and decline in worldwide demand due to Covid-19 pandemic.
Latest data indicates that the storage hub in Cushing (Oklahoma), the key delivery point in the US for oil, was only 70% full as of last week. Since the beginning of 2020, oil price has declined by over 66%.
In Europe, leaders accepted to set up a recovery fund to minimize the economic impact of the Covid-19 pandemic but failed on arriving at a deal about the nature of the aid and the precise amount.
German Chancellor Angela Merkel stated that Europe's economic power house was ready to structure a common stimulus package worth roughly €1 trillion and insisted paying back any funds borrowed from the market.
Italy, France and Spain suggested utilizing grants to back the Eurozone economy, but Austria and Netherlands wanted to go through the route of low interest loans.
French President Emmanuel Macron opined that real budget transfer may become a requisite even then. Italy's PM Giuseppe Conte suggested the recovery fund to be set up by the second-half of 2020.