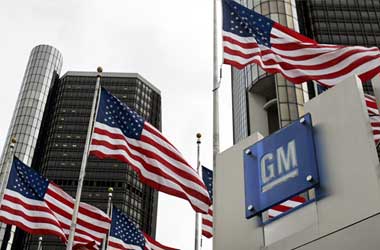 The news of a possible fine by the Chinese authorities, on an unnamed US automobile manufacturer for monopolistic attitude, dragged the share price of Detroit-based General Motors Company (NYSE: GM) to a low of $35.80. However, the details presented below indicate that investors should consider purchasing the stock in dips.
The newspaper, China daily, which reported the possible fine, did not name any automobile manufacturer in particular. Still, the company in question is believed to be General Motors. This is based on a Bloomberg's report stating that the investigation is focused on Shanghai GM.
The plant manufactures several well-known brands such as Cadillac, Chevrolet, and Buick. It is a 50-50 joint venture company created by GM and China's SAIC Motor Corp. This means that any fine levied by the Chinese authorities would be shared equally between them. The range of fine could be anywhere between 1% and 10% of the revenues generated from the China operations.
Bloomberg
During the third-quarter, the Chinese operations reported revenues of about $459 million. Thus, the fine slapped would be substantial but not to the extent of affecting GM's fourth-quarter results. The investigation was carried out by NDRC (National Development and Reform Commission), which is the price supervision bureau of China.
It is business as usual for the company in the US. General Motors announced that it would invest up to $334 million in upstate New York. The investment will be used to upgrade plant and machinery in order to manufacture next-generation engines and spare parts. The company will receive a $7 million tax relief for the planned upgrade. As many as 67 new jobs will be created in this process and nearly 2000 jobs will be protected.
Recently General Motors has started delivering the Chevrolet Bolt electric vehicle to its customers. It is acclaimed as one of the main competitors of the Tesla Model 3. The stock has also received an upgrade from analysts at Vetr Inc. It now has a 'hold' rating instead of the prior 'sell' rating.
The price chart shows the existence of minor support for the stock at 36.20. The MACD indicator is making a U-turn in the sub-chart. Thus, we can expect the stock to bounce back in the short-term.
A binary trader can capitalize on short-term uptrend by purchasing a high or above contract from a reputed broker. A long position can be taken as long as the stock trades below $36.75. The trader should also choose an expiry date between 27th and 29th of December.