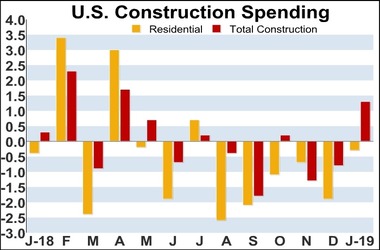 The US dollar strengthened against its peers following the release of a strong rise in public construction expenditure.
The USD/JPY pair hit a high of 111.62, from a low of 110.95. Likewise, the EUR/USD pair declined from a high of 1.1336 to a low of 1.1310.
Projecting a sharp rise in public building spending, the Department of Commerce published a report on Wednesday illustrating that US construction expenditure leaped far more than anticipated in January. The document said construction expenditure increased by 1.3% to an annualized rate of $1.280 trillion in January after slipping by 0.8% in December to a revised level of $1.263 trillion.
Economists had anticipated a 0.4% rise in construction expenditure compared to the 0.6% decrease published in the earlier month. In the meantime, updated data indicated a 1.3% drop in construction expenditure in November compared to the 0.8% rise earlier reported.
The higher than anticipated rise in building expenditure in December came as public building expenditure surged by 4.9% percent to $313.6 billion a year. Highway construction expenditure increased by 11.8% to $99.9 billion, while education expenditure leaped by 2.2% percent to $77.8 billion.
The study said personal construction expenditure soared by 0.2% to a rate of $964.2 billion, as an uptick in non-home construction expenditure was partly negated by a dip in residential construction expenditure. The Commerce Department reported a 0.3% increase in overall in in construction expenditure in January compared to the same period last year.