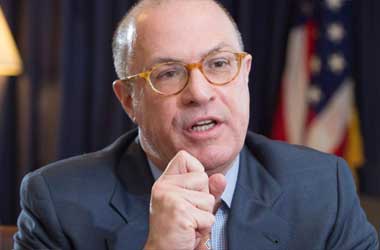 Global financial markets have experienced tremendous change in the last decade due to the advancement of technology and the impact it has had on how traditional banking and trading has benefitted.
Cristopher Giancarlo who is the Chairman for the US Commodity Futures Trading Commission (CFTC) believes that Distributed Ledger Technology (DLT) can play a major role in helping financial regulators do a better job when it comes to monitoring trading markets more effectively.
Giancarlo recently made a powerful presentation at the FinTech Week Conference at Georgetown Law School.
The presentation was called 'Quantitative Regulation: Effective Market Regulation in a Digital Era' and addressed how emerging new technologies like artificial intelligence and DLT are revolutionizing trading markets across the world.
Giancarlo pointed out that a lot of the standard tasks in the market like trade matching, processing, and settlement are being automated. This reduces costs and combined with distributed ledger technology can result in better performance all around.
In his presentation, Giancarlo said
We can also envision the day where rulebooks are digitized, compliance is increasingly automated or built into business operations through smart contracts, and regulatory reporting is satisfied through real-time DLT networks. The machines here at the CFTC would have the ability to communicate regulatory requirements and consume and analyze the data that comes in through such systems.
Keeping Up With The Times
Giancarlo points out that the challenge for regulators is to keep up with the changes in the market. Since so many new and advanced technologies are being rolled out, the CFTC and other regulators should familiarize themselves with these innovative technologies and learn how they can use them to make their job easier. He also pointed out that regulators should be more proactive when it comes to data collection and automated analysis, aiming for quality in the performance of their duties.
The chairman did take the time to emphasize that this does not mean he is pushing for human judgement to be replaced with automated responses. He highlighted that proper implementation can help improve regulator performance, with low-level and repetitive tasks offloaded to automation and expert regulation and experience being reserved for high-value activities. It also means maximizing data collection so that regulators have the full picture when they make their decision.
Distributed ledger technology is going to be key in ensuring that regulators have the right information. DLT would be able to help keep track of regulatory reporting in real-time, ensuring quick and effective action.