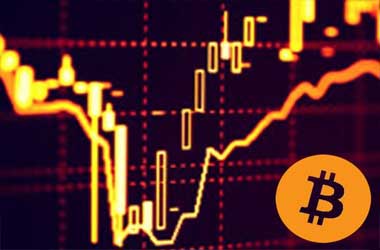 There is finally some good news for bitcoin holders after a long time. The world's most popular cryptocurrency experienced a sudden surge in value and crossed the $5,000 mark this week. A surge of this level that hasn't been seen since November 2018 and that has the crypto market excited.

The crypto market has gone through a very quiet period in 2019 and the sudden surge in Bitcoin has shaken up the $160 billion industry.
No one still knows what exactly caused the sudden spike but some experts have noted that there was rising interest when bitcoin reached the $4,200 mark. This could be one of the main reasons that led to a surge in price and got Bitcoin to cross the $5,000 mark. This big jump impacted some of the digital assets being monitored by the CoinMarketCap.com to reach about $17 billion in value after less than an hour after the bitcoin price jump.
These big swings in bitcoin prices are a familiar sight in the cryptocurrency world. What is different though is that this shift coming out of the blue. For the past three months, crypto prices have been very stable. This is mostly because a lot of investors are in waiting mode watching things develop after the bitcoin crash in 2018– which eliminated 74 percent of bitcoin's value.
Some experts are pointing out that large bitcoin purchases could have led to the price jump. Investors who follow a pattern of buying when the price spikes as well as investors who are into short covering could have contributed to the sudden spike. Ironically, another factor that might have contributed was an April Fool's Joke that said the U.S. Securities and Exchange Commission finally approved Bitcoin exchange-traded funds.
However, there are many analysts who are skeptical of a bitcoin recovery right now.
In a statement, Jehan Chu, a managing partner at blockchain investment firm Kenetic Capital, said
The Bitcoin market and crypto market in general continues to be small relative to the rest of the markets — and emotional. It's still very much subject to waves of enthusiasm. I don't think today is anything special.
Wild Price Swings

Bitcoin is still sitting comfortably above what it was a day ago, with double digits in its percentage rise. Other cryptocurrencies are also following the leader with double-digit surges. Additionally, stocks linked to cryptocurrencies are experiencing a big jump as well.
The sudden jumps have made bitcoin popular among speculators. They are mostly waiting for things to return to 2017 levels, which saw Bitcoin prices surging more than 1,400 percent and led to a bunch of sudden millionaires being created.